The Green Hospitality Programme is the Irish Hospitality, Travel & Tourism Resource for Sustainable and Responsible Tourism.  It was created to provide best practice environmental management advice and support to the sector following increasing cost pressures, increasing environmental regulations and a growing demand from stakeholders for all businesses to demonstrate their environmental credentials.
With the signing of the Climate Action Bill in 2021 and the IPCC 2021 report, followed by the publication of the Climate Action Plan 2023 even greater demands will be made of the sector and GHP is here to assist and provide expert support. 
The Green Hospitality Awards are an internationally recognised third-party environmental & sustainability certification awards programme which has been running since 2004.  It requires businesses to follow a set of defined criteria and implement an Environmental Management System which then builds towards a full sustainability programme.  The criteria are aligned with the UN Sustainable Development Goals, Global Sustainable Tourism Council Criteria, EU Ecolabel and the Sustainability Hospitality Alliance Hotel Carbon, Water and Waste Measurement methodologies.
Additional services include micro-certification through our GREENMark's, resource efficiency consulting through the Green Trading Company, consumer engagement via Green Travel.ie and our Green Suppliers and Products pages.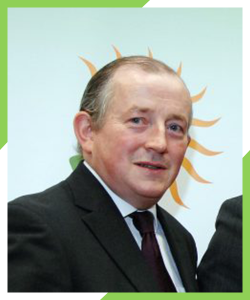 Green Hospitality has been run by Maurice Bergin since 2004. Maurice has spent over 40 years in the hospitality industry in Ireland, UK and South Africa and is a Graduate from the Shannon College of Hotel Management, holds a Master's Degree from DIT Cathal Brugha (Now TUDublin) and studied at Cornell University.
Maurice has been a hotel manager, guesthouse and restaurant owner, food hygiene consultant, general business consultant and is now the leading hospitality environmental consultant in Ireland. He is Six Sigma Green Belt trained, a certified Water Steward, has delivered SME support on behalf of the Environmental Protection Agency and the Sustainable Energy Authority of Ireland, is a registered environmental consultant with Enterprise Ireland and delivers Green for Micro programmes for LEO's across Ireland.
Based out of Cork and supported by a small team we can provide advice, certification, recognition, training, consulting, etc. to any business across Ireland.