GREENMark Micro Certification

Our GREENMark's are micro certification programmes.  We have GREENMarks for small businesses and for project specific activities and will expand these over time.
Businesses can implement these as stand-alone programmes alongside certification or on their own and use them to build skill and knowledge which can support an awards application.  Additional GREENMarks will be developed over time as we identify the need.

The Eco-Friendly Business GREENMark is our recognition programme for smaller businesses that operate in a sustainable and environmentally friendly manner. It is designed for businesses that spend lesss than €75,000 on utilities – Energy, Water, Waste – so that they can promote their "Green" credentials to stakeholders, where 3rd Party Certification is not required.   It can also be used by businesses as an entry point to Green Hospitality Award Certification
Free Access to the GREENMark resources are available to small business that are members of partner organisations
More information can be found here 

The Plastic Smart GREENMark requires businesses to eliminate and minimise identified Single Use Plastics in support of several national and international programmes including – EU Single Use Plastics Directive, Global Tourism Plastics Initiative and the IHF & REPAK Pledge on Plastic Packaging Waste
It will enable you to communicate your actions easily to your customers and stakeholders.
Download our GREENMark Brochure



The Carbon Smart GREENMark is designed to support businesses in becoming more Energy Efficient.  The business is required to implement a comprehensive Carbon Reduction programme which will reduce Scope 1 & 2 energy emissions and selected Scope 3 energy emissions.  This is also the required entry route to achieve the Carbon Neutral12 GREENMark
Businesses that are serious about energy management will want to achieve the Carbon Smart GREENMark.
Download our GREENMark Brochure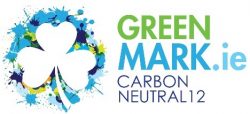 The Carbon Neutral12 GREENMark identifies a business that has implemented a comprehensive carbon reduction programme driving energy efficiency throughout their business over a period of time and has achieved a Net Zero Scope 1&2 carbon emissions using the designated approach adopted by Green Hospitality.
This is becoming an important business tool to create competitive advantage