Booking.com Launches First-of-its-Kind Travel Sustainable Badge to Lead Industry in Showcasing a Wider Variety of Sustainable Stays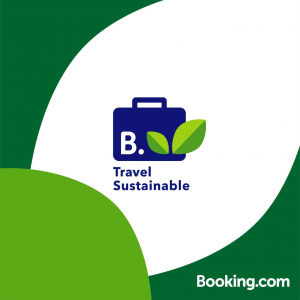 Booking.com announced the inaugural launch of its Travel Sustainable badge, a credible, globally relevant sustainability measure that will provide highly coveted information to travelers all over the world looking to make more sustainable travel choices.
The badge is available to any kind of property that has implemented a combination of sustainable practices that meet the requisite impact threshold for their destination. Designed to be applicable to a wide range of property types, from apartments, B&Bs and holiday homes to hotels, resorts and even treehouses, and adaptable to local realities and considerations, the initiative is a first of its kind in the industry.
The goal of the badge is to make credible recognition of impactful sustainability efforts attainable for more properties worldwide and to provide travelers with a transparent, consistent and easy-to-understand way to identify a wider range of more sustainable stays, no matter where they want to travel.
More information available here
GHP Comment:  A laudable action and long overdue.  However, it also allows businesses to self-declare and doesn't identify those properties that have achieved a 3rd party environmental certification – which more and more bookers want to see, especially in the corporate and business travel marketplace.